100% Australian Made Ugg boots
Ugg Town - Melbourne Factory Shop
Our Melbourne retail store and online store only sell Australian made Ugg boots, Ugg slippers and 100% Australian sheepskin homewares. We have a large range of mens, women's and children's Uggs available.

We stock UGG Australia®, Pure Oz® and more!

Our products use Australia's last sheepskin tannery in Laverton, Victoria. 'A' grade premium merino sheepskin is selected straight from the farmer and processed locally. We use double face traditional sheepskin, without synthetic or suede stick on substances. 
Australian approved chemicals, environmentally friendly tanning and craftsmanship are used to create a superior product that is renowned for long lasting durability and foot support.

If you are confused about the different Ugg brands and who are Australian made, read our guide here.
Location
UGG TOWN FACTORY STORE
31-35 GILBERTSON RD
NORTH LAVERTON, VICTORIA
AUSTRALIA
Tues - Fri | 10am - 4pm
Saturday | 10am - 2pm
Identify authentic australian made uggs
Australian made companies and products have a strong global reputation for being the best in many fields. This proud tradition has been nurtured by honest, hard working and ethical farmers, craftspeople and innovators.


The Use of the Word "Australia"
Unfortunately many fake suppliers use the word Australia in their name, this doesn't mean their products are made in Australia. The words "Made in Australia" must be featured in a clear, written format.
Here at UGG Town we are proud to continue the "Made in Australia" tradition and it is not a tradition we carry lightly, with the last sheepskin tannery in Australia 

The "Australian Made" Impression
Some international and Australian companies will give off the impression that their ugg boots are made in Australia through advertising and social media posts. However when their product descriptions are closely examined there is no mention of the products being Australian made.

Tags & Packaging
We often see the word 'Australia' and 'Made in Australia' on stickers, swing tags and even top stitching. However the only way to be sure is to look for the stitched label, low inside the show. This is one of the first steps in production and not a simple stitch that may have been completed on a 99% completed imported shoe. Look out for an inner tag that has been cut and the true country of origin cut off.

Brand Transparency
If an ugg company has no factory address, labels, website or socials. This could be because they are hiding the truth of their operations. Do your research before you buy and make sure they have an established location that is able to be visited and they are complying with Australian manufacturing standards.


Buying authentic Australian made Ugg boots is the Earth friendly option as Australia follows all environmentally safe EPA practices and using high quality materials so the lifespan lasts a lot longer than imported products.
Help keep the tradition alive and support local.

If you have any more questions, feel free to email our amazing staff and they can offer more help at Info@uggtown.com.au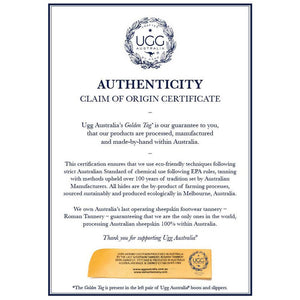 I've owned 3 pairs of Ugg Australia for the last 30 years, and they keep me warm and cozy every winter. 

Sarah Betts
The Bondi boot with the outdoor sole feels  like a real shoe and I wear it everywhere. 

Tom Wakefield
I have gifted all my friends and family Ugg Australia products and love hearing all the feel good stories for many years. How can you go wrong with a gift of warmth and comfort?

Penny Calista